Love the Guard, Be the King
This [October] is a haunted house (Devlog #007)
---
Welcome to this month's Devlog. :)
If you're a new follower, welcome, and thank you for playing! If you're an old follower, thank times five for all of your support and for being beside me all this time. ♥
There's not much to share, except that we're in one of my favorite months in the entire year! A__A Unfortunately, I've been focusing most of my time on a couple of freelance projects that have been going on for a while and that I really need to finish ASAP, so I couldn't work on the game THAT much in this past month. Still, I had some good progress, so yay!
| Here's what I did:
Separated the scenes in CH03 into two parts. I'll do my best to have Part I ready for you in November, at the same time I'll launch my Patreon/Tiers on Ko-fi—it's finally happening! Thank you for everyone who commented and gave me your support in my previous Devlog. <3 The update should have roughly the same length as the Extra Story, which is the longest chapter yet. ♥
Edited the first two scenes in Part I; they're ready to go!
Tried my hand at 2d animation... it looks nice, and I'd love to have it in the game, but it'd be weird to have only ONE animated image, so I'll only implement it once I have more.
Coded a new name input screen that looks a lot cuter than the old one. (You can see it here)
Re-coded and resized all the sprites so they would have a better quality when zooming in—this is currently causing some funny little bugs, btw. xD It's on my list of important-stuff-to-fix-ASAP. :P
Wrote part of scene 3.
| Content you might have missed in the past weeks:
>> Check my master post to see all the content I posted during the September Anniversary Celebration! :) There're loads of lore, writing prompts, and fun scenarios for you.

And that's all for now, people. I hope you're all safe and healthy, wherever you are.
As soon as I'm certain about the update day, I'll let you know! ;) And if you want more constant updates and more content about the game, please follow me on Ko-Fi as well! ♥ As always, I'm super appreciative of all your support, be it comments, donations (which help me use my time more in the game and less in my freelancing), or sharing the game with your friends! ♥♥♥
See you soon. Com muito amor,
Ligia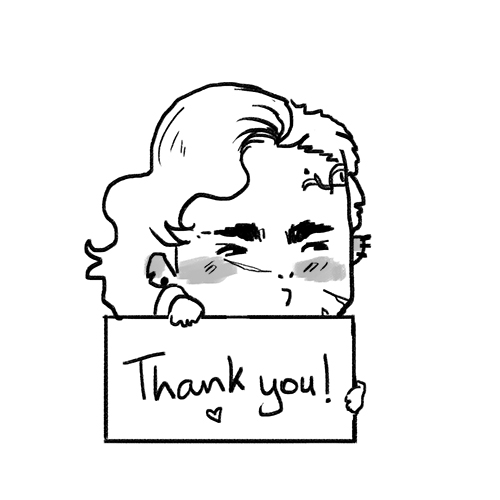 Get Love the Guard, Be the King